Have you been to the Arizona State Fair? I go every year and love to spend quality time with my family. The Arizona State Fair runs from October 10 – November 2, 2014. They are open Wednesdays – Sundays. They are featuring the best value in concerts, entertainment, exhibits, contests, and thrill rides. You can find specific details at azstatefair.com .
If you know me, you know that I am super frugal and like to save money in everything I do. So I know you're asking how I do it. Well the Arizona State Fair has so many wonderful discounts that you can take advantage of. The days I prefer to go to the Arizona State Fair are on Wednesdays. For instance, if you get to the fair between noon and 6 pm you can get in free with a specified donation. I'll be at the fair next Wednesday, Oct 22, and by donating a pair gently used jeans, tennis shoes, and backpacks (which will go to St. Vincent de Paul) my family will get in free. Seriously? Who doesn't have an extra pair of jeans that they no longer wear?   So make sure to check out the Arizona State Fair discount page so you can find what discount will work for you.
There's even better news. I know, how is that even possible right? Did you know that kids can ride for free ?  Yes, you heard me right. Kids ages 5 to 14 can ride for free by filling out this short book report .
You know how everyone likes to eat fair food. Yes that can get pricey but there's a way around it where you can taste all sorts of fair food at a minimal cost. Check out the $2 Taste of the Fair List of all 93 different items. How crazy awesome is that!!!??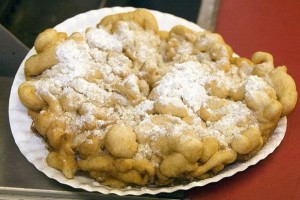 What's your favorite thing about the fair? Rides? Concerts? Food? Entertainment? Exhibits? Inquiring minds want to know.
  Disclaimer:  I was provided admission to the fair for my family for participating.  All thoughts and opinions are my own.