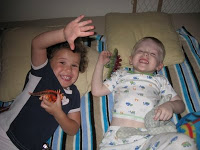 Ande and Jill were having a sleepover Friday night and I was going crazy getting all the things they expected me to get together for their sleepover. Luckily my wonderful sister in law, Sharon, called to the rescue and asked if Jessica wanted to have a sleepover at her house. (yes, I secretly jumped for joy – ha) Even though Jessica has never been to a sleepover, I didn't even think twice and I said YES!!! So I am happy go lucky taking Jessica to her sleepover and half way there Jessica asked me for milk. AGGHH!!! I forgot her sippy cup and milk. I didn't want to go back home to get it cause I was afraid that Jessica would just want to stay home. Ha ha… So I went to the "ghetto" Fry's on 7th Street and Baseline. (always something scary or litteraly crazy going on there) Anyhow, I bought Jessica a sippy cup and milk. I also bought all the junk food for Jill & Ande's sleepover.
Caleb pushing Jesse on the swings
So I get to Sharon's home and realize that I forgot to buy the soda that Jill and Ande wanted and lucky for me and not surprisingly, Sharon came to the rescue again and gave me a 12 pack of soda. *thanks*.
I was a little leary about Jessica staying the night since it was her first sleepover, but she didn't seem to mind. As a matter of fact, she didn't even want to say goodbye to me. ha! It seemed like she forgot I existed. Go figure! As I was about to leave I realized that I forgot to take her 'comfort' blanket. So I had to go back home to get it. Oh the things we do for our children! ha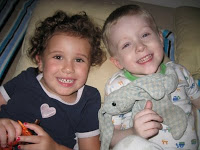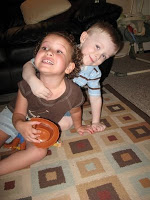 Jessica really enjoyed her first sleepover with her cousin Caleb. She hasn't stopped talking about how much fun she had. Sharon said that the kids had a blast at their little sleepover. Caleb and Jessie stayed up late playing and watching movies. They all were up by 6 the next morning. (which is way early for Jessica who enjoys sleeping in until 8:30 or 9)
Sharon said that the kids had donuts for breakfast (not that they actually ate them :), they played all morning in the backyard and playroom and then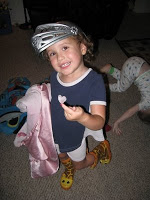 they had McDonald's for lunch.
I guess compared to a teenage sleepover it doesn't take much to entertain toddlers at a sleepover.
Ande and Jill on the other hand, were loud all night. Movies and lots of laughter, which of course was okay because I would rather them be silly at home than out doing illegal things. The toddlers got to stay up late (10pm) and most of the teens stayed up ALL night! The
y didn't sleep at all! Holly cow! Of course, I really am not super surprised because I only slept 3 hours. Gosh I am tired!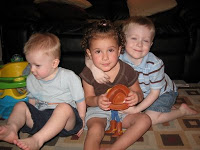 Ande and Jill had too much fun that they forgot to take more than 2 pictures. Sharon however took several pictures of the kids sleepover.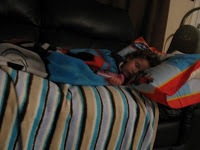 Jessica finally asleep!!