Lots of changes to come for the new year. Starting over isn't always what we want to do, but sometimes it's for the best. I know that me starting my life over with just Jessica is a decision that was not taken lightly. After much prayer, pondering, tears & counseling…. I know without a doubt that my decision to move forward with just Jessica & I was the right one. I know that the Lord will continue to guide me if I continue to allow him in my life.
Jessica & I have moved into a new home. I'm super excited to be closer to my parents. YAHOO! I love my mommy & daddy!  My parents purchased a home in mid December to rent out & it worked out perfect for me as I was going to look for a place during the month of January. They fixed it up and it was ready for me to move in on the last weekend of December. What a blessing that everything just happened at the same time & I did not have to deal with finding a place to rent. My parents had been looking to purchase a house to rent out for almost a year. If they would have found it any earlier, they would be renting it out to a stranger right now & I would be in a panic looking for a place to live. It's amazing how the Lord hands you what you need when your life is in order. I cherish these tender mercies!
I rang in the new year with my amazing friend Ashley from Cute as a Fox. She has been there for me through many of my good & bad battles. I was grateful to have started the new year with someone who brings so much joy in my life. Thank you Ashley for always making me laugh… even if it's at your expense!
Although I should have spent New Years Day unpacking; I spent the majority of the day visiting with my mom. I think I made the right choice. I love to be at my parents home. It's a wonderful, comforting & fun place to be. It makes it easier that Jessica also enjoys being there and not having to hear, "Can we leave now" every 5 minutes. It'll always be home no matter how old we get.
I remember the summer after my 2nd grade was when we moved into the home my parents still live at. What's interesting is that I remember being super excited to move into a new home. I can totally visualize how happy I was running around a dirty beat-up house that we had to clean prior to moving in. I clearly remember stepping on a metal bottle cap that was in the living room and cutting my foot on it. Of course, my mom saved me and stopped the bleeding. Crazy memory, I know, but it made me smile thinking back of the first time I saw that house. Back then, about 32 yrs ago, my parents house started out as a 3 bedroom, 1 bathroom, living room & kitchen. Little by little, my handyman dad would change things. For instance. We used to have a hallway but he knocked it down to make the living room bigger; The location of the front door moved to 3 different places, went from swamp cooler to AC… and lots of other various remodeling. As of right now, that house still has 3 bedrooms, but it now has 2 bathrooms, an office, an additional family room, dining room, kitchen bar area, food storage room, additional storage room, a 1bed/1 bath apartment in the back yard…. and too many other little things to mention. Needless to say, we named my parents house, "THE BILTMORE" because every time you go, my dad has "built more" to the house!
Moving into my new home now brought back similar memories. Jessica was running around the yard, super excited at how big it was. She then quickly picked her room. Lots of repairs needed to be done prior to moving into my home. This house had ridiculous ugly 1970's style gold veined mirror tiles on an entire wall in the living room. It was hideous! I told my dad that had to be the first thing to go. My dad was taking them down & cut his hand open and had to get 12 stitches. I completely knew it wasn't my fault, but I felt responsible because he was taking them down for me. He painted which I am grateful for because the walls were pink and some puke color green. He also took down a horrendously ugly plywood wall that was dividing the dining room from the living room. Taking that down made the house look much nicer & bigger. It also helped that he took out the linoleum and put down tile. My dad has so many plans to add to this house. It'll be exciting to see all the changes that are to come.
Here's a picture of my brother & Jessica knocking down what was left of the ugly plywood  wall that was dividing the dining area from the living room.  Check out the ugly linoleum!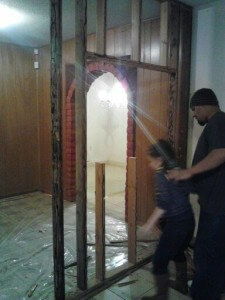 Now here's the after…..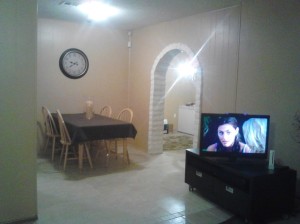 Oh yeah, we named this house, "EL RANCHO"… or in English, "THE RANCH". There's not really a huge reason for that, except for when the repairs were being made and with me moving, we kept getting confused on what house we were talking about, and on the paperwork for this house, it said, "Ranch Style House" and that's where the name came from.
Happy New Year and May the Odds be Ever in Your Favor!