My family went camping with several of my siblings this past weekend. Everyone had a great time. The weather was cold but for the most part tolerable. Lucky for us we didn't have to sleep in a tent because my sister & brother had their camper trailers with them. It was nice for me to get away after teaching intersession all week for my students that were falling behind.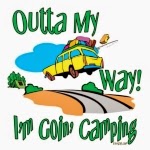 However, on that Friday, I woke up not feeling well. My body was in a lot of pain and my hands and fingers started to swell. I had that continuous rash/hives/weird bumps that hurt to touch and itched like crazy. Anyhow, I really would have rather stayed home than go camping but if I stayed home I would have ruined my family's trip because they wouldn't have gone. The girls (Ande, Jill & Jessica) we're excited about going. So… I figured I would tough it out.
BIG MISTAKE!!! At least it was a big mistake the first night. I seriously cried myself to sleep from the pain I was in with the swelling, pain, stiffness of my joints and simply not being able to move. Lucky for me- my parents came up Saturday morning and brought me some Arthritis medicine. The pills did take away some of the inflammation from my body and I was able to move a little better, but it didn't take away the horrible bumps on my body -these are the bumps that I have been calling a rash – which in reality I have no clue what they are. I just know they are painful. (I see an allergist tomorrow and the Rheumatologist on the 26th of March, so I'll post about it then)
Anyhow, the kids had a great time camping. They got to shoot guns, play like they were at war and acted like snipers, rolled down hills, splashed in the creek, played horeshoes, volleyball, baseball and just enjoyed eachothers company. They went hiking… until… they thought they saw big foot. Yup… even Ande was afraid of big foot. My sister thought it would be fun to tell them prior to going camping that a recent bigfoot sighting was reported in that area…. and the kids fell for it. I seriously didn't think Ande would, but I think she was the most scared. If you ask Jessica, she'll tell you she shot big foot. ha ha.. don't know where she got that from. Of course it probably didn't help that it was also Friday the 13th the day we got to the campsite.
Anyhow, on Saturday the kids were so excited because it started to "snow" according to them. It was actually just sleet and the kids were happy playing in it. All in all… the kids had a great time so it was worth my pain and suffereing. (or at least I keep telling myself that!) 🙂