We all go to birthday parties, weddings, graduations and all sorts of fiestas. Let's face it… sometimes it's just easy to give money instead of going out to buy a gift that they may never use. As a result, the money you spent pretty much went to the garbage. My daughter used to always say, "I'd rather you give me $5 than buy candy or little knick knacks that I won't use".  Anyhow, my daughter recently graduated from Phoenix College and I had no clue what to give her.  The only thing I figured Mrs. High Maintenance would like was money.  However, it's kinda boring to just give money in a card. So I wanted to do something a little creative. (In case you didn't know, I am FAR from creative in the DIY area)  I was at a baby shower and one of the gifts the  bride received was a tub of wipes, however, there were no wipes in the box, there were dollar bills. So after chatting with the gal that gave that gift, she gave me the idea to do a similar thing with a box of tissues.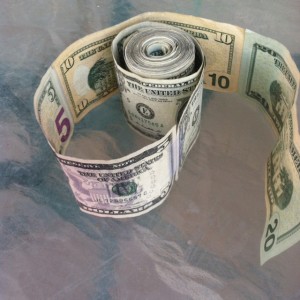 I taped together bills, then rolled them up and put them in an empty Kleenex box.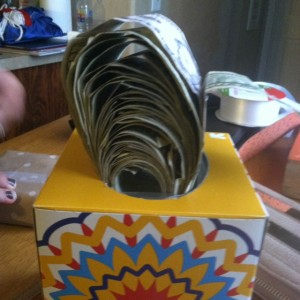 I didn't decorate the box like I was told to because I thought the box was already pretty nifty looking. And doing so would require a little creativity that I lack.  I also could have made a little tag that said, "Don't Blow It All In One Place"  but again, that would require me to find cute paper and ribbon. haha.   I left part of one bill sticking out of the box just so she would think that I gave her lots of $20's.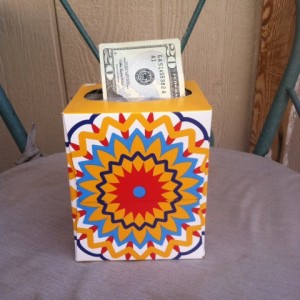 Anyhow, I used some larger bills, but only because the gift was for my daughter.  And even then, the majority of the bills were $1's.  If it were a gift for anyone else, I would have used only $1's (and a lot less money).  Yeah… I'm a little frugally cheap. Ha!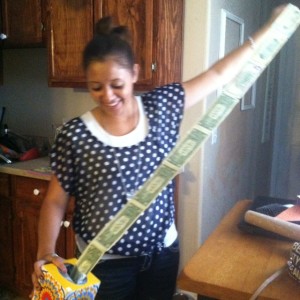 It seriously was SO much fun to see her unroll the money.   I absolutely LOVE to see my children happy.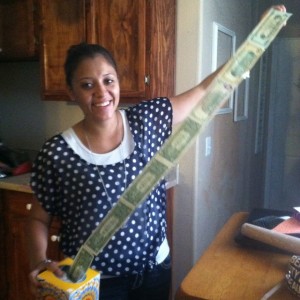 I literally was jumping for joy at her excitement.  Heck, I was jumping for joy on the way to give her the gift because I couldn't believe I did a DIY project without assistance. Ha.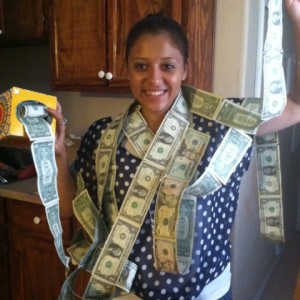 My daughter loved the gift and just kept laughing and smiling from ear to ear in amazement. She was shocked for two reasons. One, she never imagined me doing something creative. ha. Second, she knows how frugal I am. (ok, maybe more like ridiculously cheap)   She kept saying, "It's too much money, take some back" hahaha.   It seriously had me on cloud 9 to see her eyes get wider as she kept pulling more and more money out the box.
What are creative ways you have given money?