Ande & Jill (my lovely niece) had a choir performance in Flagstaff this past weekend for a Madrigal Festival.  I don't like to miss any of Ande's performances so I decided that I would make the trip u
p to Flagstaff with Jessie in tow.
So after a little begging, my sister Sylvia said she'd go with me (Thanks for changing your plans for me so that I wouldn't have to go alone). Anyhow, my initial plan was to just drive up and back the same day since it was only a 2.5 hour drive. Sylvia convinced me to stay over night. Of course since there was snow there I didn't mind staying over night considering Jessica hadn't ever touched snow. She did see snow when she was 9 months and on the rode when we were camping last year.. but has never played in it.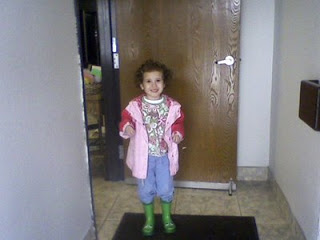 Gotta Love Jessica in her green boots!
So we get to Flagstaff and find a hotel. So.. it turns out that many of the hotels were full!! WHAT? Are you kidding me. Why the heck would they be full? Then it daw ned on me… hmmm… three reasons why… first: 2 feet of freshly fallen snow the day we got there – which meant people were there for skiing.. sledding and playing in the snow… Second: Valentines Weekend – which meant people were doing the lovey dovey stuff and Third: It was a long weekend because of Presidents Day… Anyhow… We finally found a hotel and got $30 taken off the price… LONG story short… I will spare you the details.. but I guess it's good to barter and then complain.
So.. we meet up with Ande & Jill and the rest of the choir for lunch. We also had a missionary that was transferred to Flagstaff who used to serve in my ward meet us for lunch. It was great seeing Elder Peterson – Even with a broken collar bone, he & his comp joined us for lunch.
Anyhow Jessica & Sylvia's 3 kids were anxious to go play in the snow. But .. they
would have to wait because we needed to go to the choir performance first. Of course they couldn't wait so outside of the restaurant they decided to dive into the snow. I guess you can't blame them… they aren't used to seeing snow. Of course one of the elders had to jump in and throw Sam into the snow.
So anyhow, after lunch we went to the choir perf ormance. Jill & Ande did amazingly well. I am a horrible person to say this .. but I didn't realize it was their choir until I looked up and saw A nde & Jill singing away. I seriously had just told Sylvia that the choir singing coul dn't be them because that choir sounded to o good. ha ha.. Sorry Ande & Jill for that! But they really were pretty spiffy. It wasn't a competition, but they did get critiqued, which I thought was neat.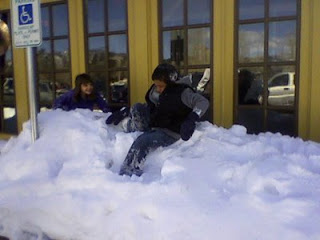 We were luckly enough to find some sleds to play in the snow. The first time I fell off the sled I remembered why it had been over three years since I have played in snow. I know this sounds goofy.. but holy crap- snow is dang cold. Gosh.. I know that sounded dumb. I couldn't see myself li ving in it.. I don't know how my sister Sarai does it. She must be crazy!!
So the kids had a blast sledding and having snowball fights… until… Jake came down a big hill and ran right into Sam. All we hear is Sam screaming like a little girl… "My arm is broken, my arm is broken" Oh GOSH!!! Some nice gentlemen carried him to Sylvia then Sylvia made him walk.. ha ha… Then some nice woman carried Sam to "safety".
Anyhow.. I realize that this post is long and boring so I'll spare you the rest of the details and write what I should have written from the start…
Went to Flagstaff

Had lunch with a missionary that had served in my ward

Heard Ande & Jill Sing

Played in snow until someone got hurt

Froze my butt off!
Jessica wondering if she should sled
Jessica wishing she didn't sled (we fell the first time down)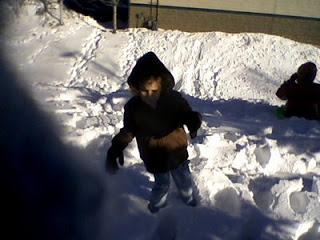 Jessica eating snow (yes, I warned her about yellow snow)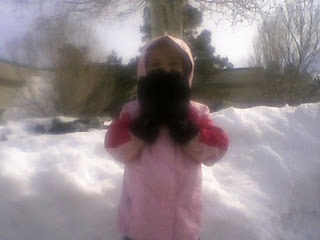 The hill Jake went down when he ran into his brother

TADA… I'm done!