So it's taken me over a month to post about my family vacation to Disneyland that we took the last week in December.   I figure I better do this now before I go to Disneyland again in 16 days. This time it'll be my oldest daughter, her friend & my niece.Gosh I absolutely LOVE Disneyland!!!!Just saying the word DISNEYLAND makes me want to do the happy dance.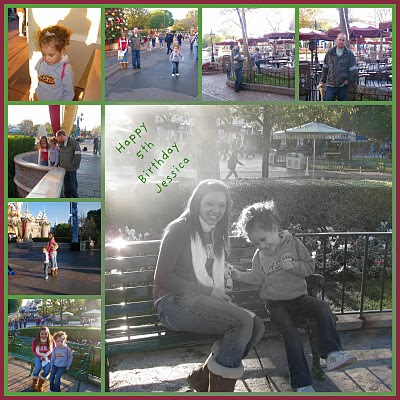 MONDAY – DECEMBER 28, 2009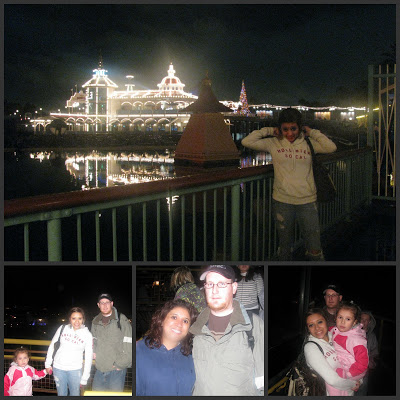 In the morning my familia drove to California from Phoenix. We got to our hotel a few hours before our check in time, but lucky for us, our room was ready and they allowed us to check in early. Of course when we walked into our room, there was only a ONE bed so everyone slept on the floor except for me! ha ha.. Not really, although that would have been nice! ha ha… we did end up getting a different room. Anyhow, on Monday night, we took a family trip to the grocery store for the things we'd need for our stay and then just drove around.  (yes I'm even frugal on vacation… I'll do anything to save a little money) Later that evening, Ande & I walked down the street from where our hotel was so that we could see how long the walk was to get into Disneyland. It was about a 7 minute walk. Not bad at all!!! It was great to be able to walk to and from Disneyland because in the end, it saved us A LOT of $$$ by going back to the hotel to eat or by going to a restaurant away from Disneyland and not having to pay the $14 per day for parking at Disneyland.
TUESDAY – DECEMBER 29, 2009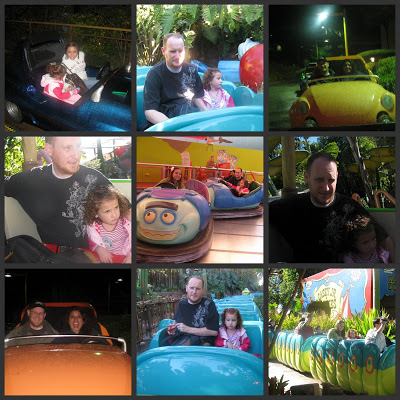 Today was Jessica's 5th b-day. We woke up early and were all super excited to spend the day at Disneyland. Jessica actually allowed Ande to comb her hair and let Ande put a tiara in her hair. Jessica was all done up (make-up included) Oh dear.. my little tomboy is turning into Princess Ande. (Of course the girly stuff only lasted one day- ha ha)
We get to Disneyland about 45 minutes before it opened because we needed to get Jessica's FREE Disneyland ticket. Disneyland had a promotion where you get in free on your b-day. Once we got her ticket they gave Jessica a button that said, "Happy Birthday Jessica -5" That was pretty cool because any employee that saw her button would tell her happy birthday. Surprisingly my shy little girl had a huge kick out of all the attention.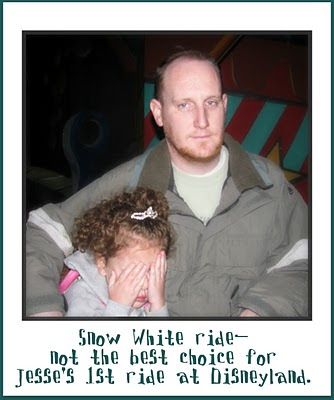 So on to our first ride…. We got on the Snow White ride. YIKES!!!! That was a dark ride and kinda scary. NOT a good choice for a first ride for Jessica. Well needless to say, Jessica's first ride experience at Disneyland wasn't anything to brag about. She was SO scared and screamed through most of the ride. It was sad, but kinda funny.  Okay, it was REAL funny because she screamed bloody murder. Yes, I find humor in everything – that's what keeps me young! ha ha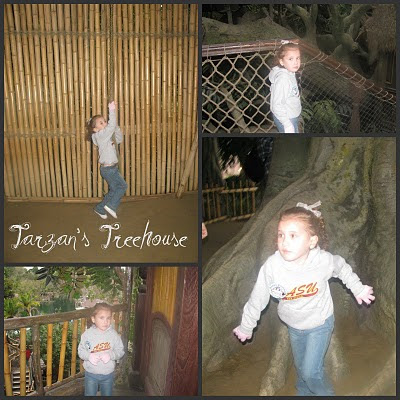 For Jessica's birthday dinner we left Disneyland for at bit and went eat at Red Robin. Jessica didn't even care or acknowledge that the servers sang happy b-day to her. She was just too busy enjoying her ice cream sundae.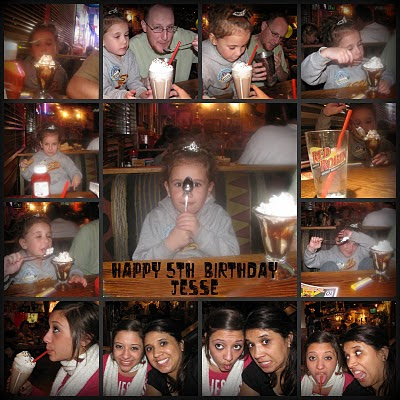 Anyhow, today was a day for just Jessica so we got on basically just kid rides. Her favorite ride was the Buzz Light year ride & Haunted Mansion. So how is that she was afraid of the Snow White ride but not the Haunted Mansion?
WEDNESDAY – DECEMBER 30, 2009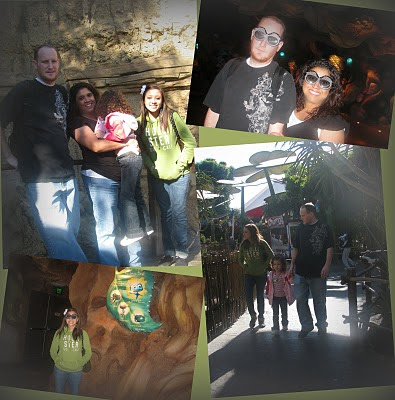 Even though it wasn't Jessica's b-day anymore, she still wore her b-day pin so that everyone could tell her happy b-day. She actually wore the pin all three days that we were at Disneyland. It started to rain today, but it didn't stop us from having fun at Disneyland. It was actually wonderful because I think people are afraid of rain because the park wasn't too busy. ha.   Ande was having a fit because her Boots with the fur aka UGG's were wet and not so much because of the rain, but because she walked into EVERY puddle we came across. She's not very bright because when we went to the hotel to change out of our wet clothes and shoes, Ande put on another pair of UGG's.. Seriously Ande? did you think the 2nd pair wouldn't get wet considering it was still raining?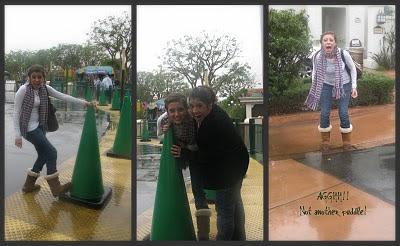 It really didn't rain much, it just sprinkled ALL day. But it sprinkled enough to keep people away from Disneyland. Yay for us!!! Yesterday we spent all day at Disneyland and today we did the park hopper thing. Ande got to choose all the rides she wanted to go on today.

One funny thing for CA Adventure was that we got on the Swinging Ferris Wheel. It was WAY unexpected when it actually started swinging A LOT. It even made my stomach drop. Jessica was so freaked out. It was sad to see, but of course I earned mother of the year award because I found it rather amusing to see how scared Jessica was and I couldn't hold back my laughter. Gosh I'm such a mean mother! Ande actually got scared the first time it swung… ha ha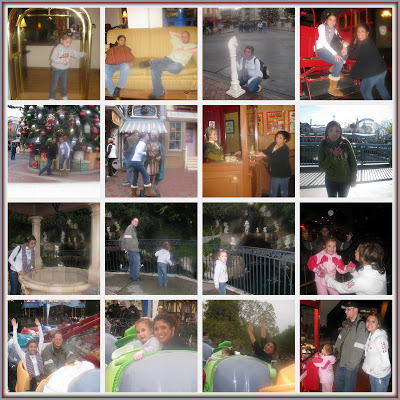 THURSDAY – DECEMBER 31, 2009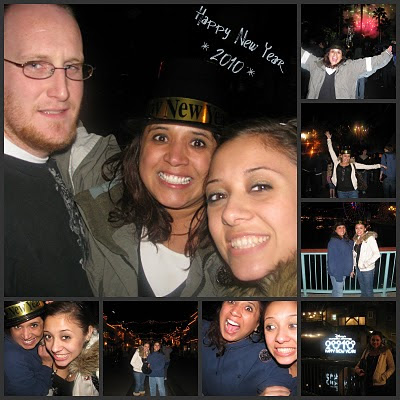 Today we spent most of the day at California Adventure. We left the park to go eat (gotta save money somehow). It took a LONG time to decide where to go. Jessica was tired which equaled to a grumpy and upset girl. Ande was having hungry and having a bad hair day which equaled to a grumpy and upset girl. I was annoyed with Jessica and Ande which equaled to a grumpy and upset girl.. Greg was frustrated with all three of us which equaled to a grumpy and upset girl.. I mean guy. I think today was a tad stressful but when we got back to the park, everyone was in a better mood…. Thanks to the magic that Disneyland brings!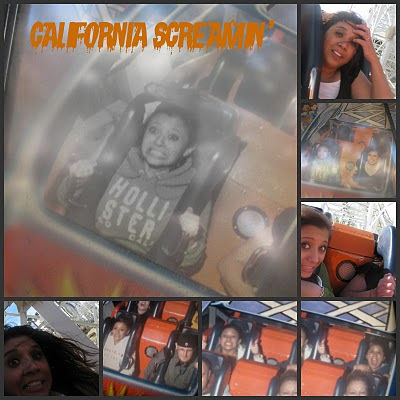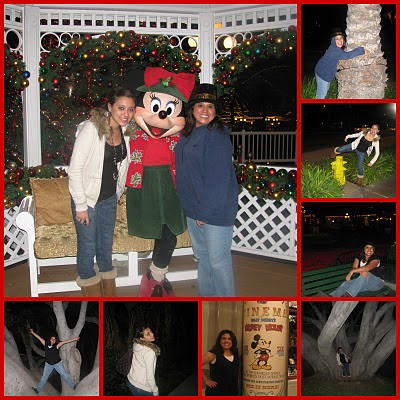 Today was another long day since it was the day we left California. We woke up late and took our time getting ready to go back home.  We walked through Downtown Disney, did a little shopping, at lunch and pretty much is all we did prior to going home.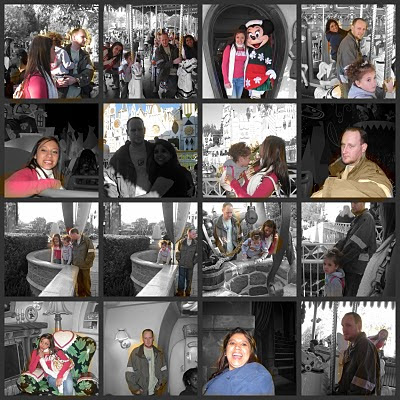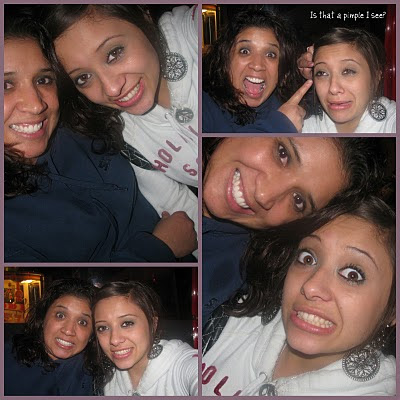 Although we were at Disneyland at the most busiest time of the year, we didn't have to wait in lines long at all. Some of the rides we walked right on because we had so many fast passes. The longest ride that we waited for was the Submarine ride and that was only a 25 minute wait. Not too shabby! Most rides were about 5 to 15 minute wait. Thanks to a rainy day at Disneyland and Ride Max for helping with the planning of rides. (yes, I had a schedule. ha)