HAPPY BIRTHDAY SWEET 16!!!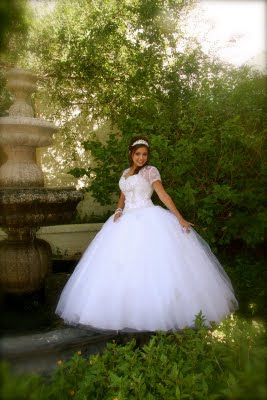 It's been one month since Ande turned 16. I have been so busy with school, family, PTA meetings, volunteering at Ande's school and everything in between…  so life has just been crazy busy.
Anyhow, I clearly remember the day August 12, 1993. That day was the day I became best friends with the epidural. It was also the day Ande was born weighing in at 6 lbs 12 oz. She was so tiny and precious and had an insane amount of black hair.  From that moment, life from there was a crazy roller coaster for her. She has gone through so much in her life. A lot of good and unfortunately a lot of bad as well. I don't want this to be a depressing post so I won't go into the long story about all the abuse she had to endure as a little kid with the other side (meaning my ex husband and his wife). Luckily Ande was strong through it all.
I will say one thing… when she was four, she woke up all excited to tell me about her seeing an angel. It was rather emotional to hear her tell me what she saw. She told me that her angel told her that when she went to school she would never have to see "them" again. She also told me what her angel looked like. She described my mother's mom, which was rather interesting because my grandmother passed away when my mom was 13 years old and Ande had never even seen a picture of her great-grandmother. I remember Ande telling me specific details about "her angel" that I didn't even know. For instance, Ande told me that her Angel had 6 kids but that one boy and one girl died. Ande told me a lot of other personal things as well. I called my mom to ask her if what Ande told me was true. My mom was quiet and then just cried on the phone. It truly was surreal. Anyhow, SUPER LONG story short, when Ande started 1st grade a big sad "event" happened and the court/CPS gave me full custody with him no visitation rights. WOW! What Ande had told me actually happened about 3 years later!

Where did the time go?!? It's insane how fast time has gone. Ande is SIXTEEN years old. YIKES! She's beautiful, has an amazing voice, smart (well… in a ditzy way), she has a wonderful personality and is very outgoing. I absolutely love this young lady.

Ande has been such a great kid, especially when she's sleeping… I think that's when I like her the best! ha ha! Seriously, she has brought a lot of joy into my life (she's not perfect so also some disappointment). Fortunately it has been more joy than not. Ande earned a good birthday bash, so I let her have a Sweet 16.
She had such a great turn out at her Sweet 16. I was surprised at how many friends she had. Then again, I wonder if she paid them to come to her party. Ha ha. The party was a huge success. Ande started the night wearing a beautiful white dress while everyone ate dinner. Towards the end of dinner she did a "daddy-daughter dance". They danced to the song My Wish by Rascal Flatts. The lyrics are just beautiful. 
 

Anyhow, she then changed into a super nice pink evening gown and surprised the poo out of me when she sang and dedicated a song to me. (Butterfly Fly Away by Miley Cyrus) Of course I was a total baby and cried the entire time. She is such an amazing singer, I just wish she believed it. Thanks Ande… you did a fabulous job! You make me proud!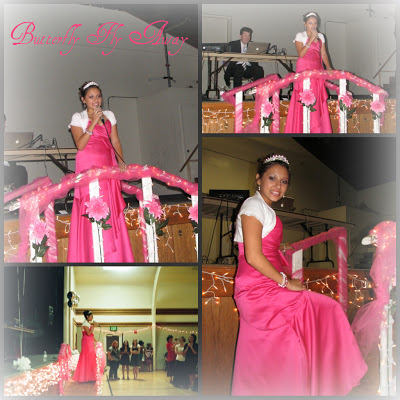 Then for the 3rd outfit change she put on some blue jeans and a black shirt that said Sweet 16 on it. Her and four of her closest friends did the Evolution of Dance. They were so funny to watch because they don't know how to dance!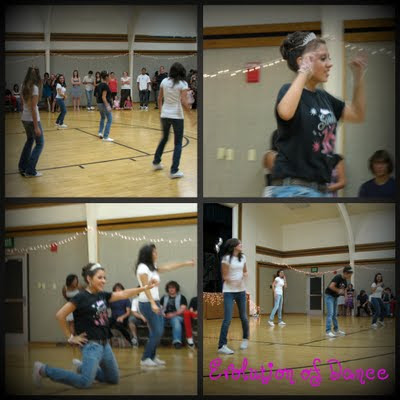 Then it was time to sing happy birthday. Ande wanted the candles on the big cake, but it was just to pretty to ruin with lots of candles. But Ande insisted that she blow out 16 candles so we had to do it on a different cake. – you know it.. whatever Ande wants.. Ande gets.. – 🙂 My sister Sarai did a fantastic job on the cake. THANKS!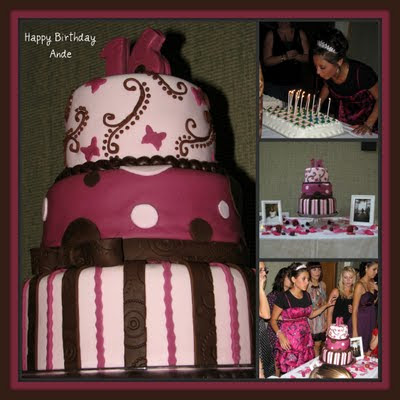 So Ande changed AGAIN for the fourth time. This time it was into her "dance" clothes which was a cute little pink and black dress. After dancing for a while she realized that so many more people had showed up that hadn't seen her in her big white dress, so she changed (for the 5th time) into that dress… danced a little while then changed AGAIN one last time into her "get down and boogie" pink & black dress.
I actually had the pleasure of embarrassing Ande a couple of times. Yay for me!!! Her friends were teaching me how to do some weird dance moves that of course I couldn't do… but none the less did it anyway. I also got on the floor and attempted to do a back spin. NOT a pretty sight! ha ha – Well… all in all the night was flawless (with the exception of my dancing of course!)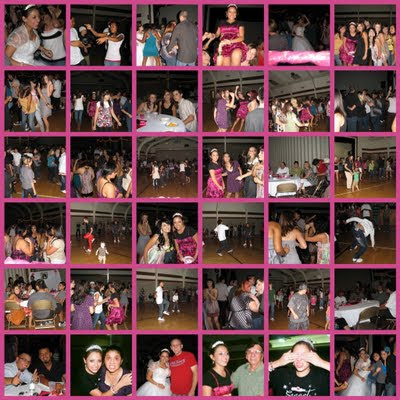 SHOUT OUTS….
Thanks mom for cooking the beans & meat. Dinner was super delicious!!!
Thanks to my Aunt Alma for making the yummy salad.
Thanks to my sister Sarai for making the very fancy and beautiful cake.
Thanks to the DJ Ryan Bailey for the great music at a great deal.
Thanks to Melinda, Syliva & Dez for your help with decorating. Ya'll did an amazing job. (and M & S for the decorations that you supplied).
Thanks Julia for taking pictures.
BIG thanks to my mom, my aunts, Melinda, Sylvia, Dez and everyone else that helped clean up the building after the party.
A special thanks to Ron & Victor for cleaning in a hurry and making sure all the teens were out of the building – even though it was mainly because you wanted to go home and not so much because you wanted to clean. But nonetheless, I really appreciated it!
One last thanks to Photography by Rejli for the amazing photo shoot you did of Ande
It really was a fun party but am SO glad I don't have to do it again until she gets married. (Ande… you aren't allowed to get married! ELOPE!) 🙂 HA
Ande… I hope your birthday was what you expected it to be. It was fun planning it for you. I love you a lot and want what's best for you!… Now the party is over… so go do your chores!